Castles and Fortresses in Romania
Romania's castles, fortresses beautifully illustrate the countries vast medieval heritage. The castles built between the 14th to the 18th century served promarily the defense against invaders, while the ones built starting in the late 19th centiry are more classical residences that served the romanian royalty. Most popular are the following: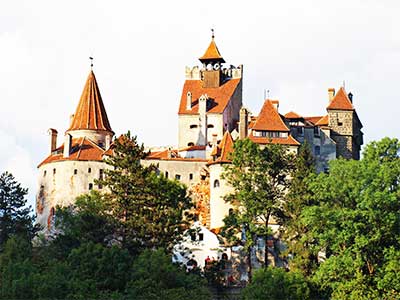 Bran Castle (Romanian: Castelul Bran; German: Törzburg; Hungarian: Törcsvár) is located 25 kilometres (16 mi) southwest of Brașov on the Transylvanian side of the historical border with Wallachia. Commonly referred to as Dracula's Castle it is often erroneously considered the home of the title character in Bram Stoker's Dracula. There is no evidence that Stoker knew this castle, which has only tangential associations with Vlad the Impaler, voivode of Wallachia, the putative inspiration for Dracula. Dutch author Hans Corneel de Roos proposes as location for Castle Dracula an empty mountain top, Mount Izvorul Călimanului, 2,033 metres (6,670 ft) high, located in the Călimani Alps near the former border with Moldavia
The castle is now a museum dedicated to displaying art and furniture collected by Queen Marie. Tourists can see the interior on their own or by a guided tour. At the bottom of the hill is a small open-air museum exhibiting traditional Romanian peasant structures (cottages, barns, water-driven machinery, etc.) from the Bran region.

Find recommended Hotels near the Bran Castle here...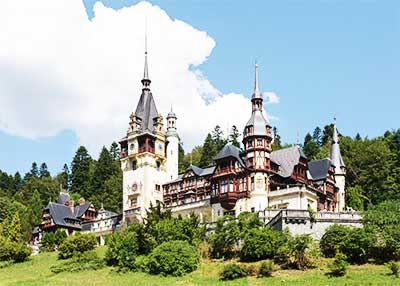 The Peleș Castle (Romanian: Castelul Peleș) is a Neo-Renaissance castle in the Carpathian Mountains, near Sinaia, in Prahova County, Romania, on an existing medieval route linking Transylvania and Wallachia. Its inauguration took place in 1883. It was constructed for King Carol I. It is situated northwest of the town of Sinaia, which is 48 kilometres (30 mi) from Braşov and 124 kilometres (77 mi) from Bucharest, in the southeastern Carpathian Mountains. The complex is composed of three monuments: Peleș Castle, Pelișor Castle, and the Foișor Hunting Lodge. By its form and function, architecturally Peleş is to be considered a palace, but it is consistently referred to as a castle. Its style is a romantically inspired blend Neo-Renaissance and Gothic Revival similar to Neuschwanstein Castle in Bavaria. A Saxon influence can be observed in the interior courtyard facades, which have allegorical hand-painted murals and ornate fachwerk similar to that seen in northern European alpine architecture. Interior decoration is mostly Baroque influenced, with heavy carved woods and exquisite fabrics.
Find accomodation in the Sinaia area, close to Peleș here...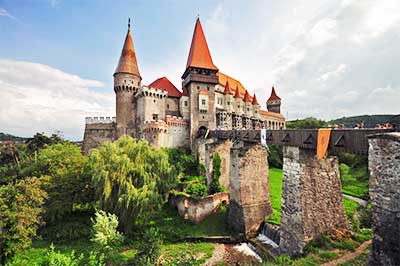 The Corvin Castle, also known as Hunyadi Castle or Hunedoara Castle (Romanian: Castelul Huniazilor or Castelul Corvinilor), is a Gothic-Renaissance castle in Hunedoara, Romania. It is one of the largest castles in Europe and figures in a list of the Seven Wonders of Romania. Built in a Renaissance-Gothic style and constructed over the site of an older fortification on a rock above the smaller Zlaști River, the castle is a large and imposing structure with tall towers, bastions, an inner courtyard, diversely coloured roofs, and myriads of windows and balconies adorned with stone carvings. The castle also features a double wall for enhanced fortification and is flanked by both rectangular and circular towers, an architectural innovation for the period's Transylvanian architecture. Some of the towers (the Capistrano Tower, the Deserted Tower and the Drummers' Tower) were used as prisons. The Buzdugan Tower (a type of mace after which it was named) was solely built for defensive purposes and it had its exterior decorated with geometric motifs. The rectangular shaped towers have large openings to accommodate larger weapons.
It was laid out in 1446, when construction began on the orders of Voivode of Transylvania John Hunyadi (Romanian: Iancu or Ioan de Hunedoara). The castle was originally given to John Hunyadi's father, Voyk (Vajk), by Sigismund of Luxembourg, king of Hungary and Croatia, as severance in 1409
Find nice Hotels near the Corvin Castle on the following page...
Find recommended places to stay near the following Romania's most visited castles and fortified Churches.