The City of Bucharest
Bucharest (Romanian: Bucureşti) is the capital city and the commercial centre of Romania. It is located in the southeast of the countr, lies on the banks of the Dâmbovita River and is a vibrant metropolis today.
According to Romanian legend, the city of Bucharest was founded on the banks of the Dambovita River by a shepherd named Bucur, whose name literally means "joy". His flute playing was reportedly dazzling him, and his hearty wine from the nearby vineyards made him popular with the local traders who gave the place its name.
The city was first mentioned in 1459 and became the capital of Romania in 1862. Since then, it has gone through a variety of changes and has become the centre of the Romanian mass media, cultural and arts scene. Its eclectic architecture, which is a mix of historical, Ceausescu-era and modern, also reflects the city's varied history. In the period between the two World Wars, the city's elegant architecture and the sophistication of its elite gave Bucharest the nickname of the "Paris of the East" or "Little Paris".
Although much of the historic center was damaged or destroyed by war, earthquakes and Nicolae Ceausescu's program of systematization, much survived, and in recent years the city is experiencing an economic and cultural boom.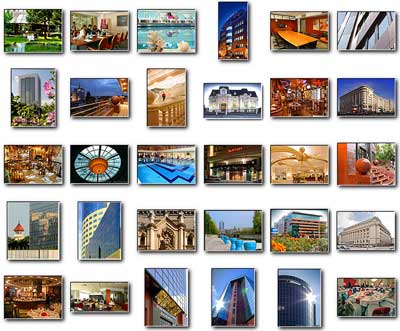 The Bucharest area has a population of roughly 2.6 Million inhabitants (1.9 Million in the Municipality), making it the largest city in Romania and the entire Southeastern Europe. Economically, the city is by far the most prosperous in Romania and is one of the main industrial centres and transportation hubs of the region. As the most important city in Romania, Bucharest has a broad range of educational facilities.
The city is administratively known as the Municipality of Bucharest (Municipiul Bucuresti), and has the same administrative level as a county, being further subdivided into six sectors.
So much interesting content can be provided about Bucharest, that we want to be brief here and provide you with a dedicated website for the city: